Staying safe during COVID
We have implemented additional safety measures, including increased sanitisation, hygiene procedures and social distancing to ensure the safety and protection of you and our community.
If you are currently, or have recently been feeling unwell, had any contact with a confirmed case of COVID-19 or are currently waiting for results from a COVID-19 test we ask for your understanding in booking an appointment for a later date when you are cleared of potential COVID-19 transmission.
Current restrictions
Under current DHHS recommendations for Victoria, routine eye care is available in a COVID safe environment.
Increased cleaning and disinfection of surfaces and high touch areas. Our examination rooms and equipment are thoroughly disinfected after each patient.
We are limiting the number of people in our clinic at any one time to minimise contact and enable social distancing.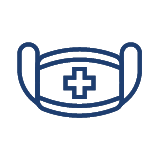 During your consultation we use disposable gloves, KN95 masks and eye protection in line with current best practice. Where appropriate, some equipment has breath shields installed.
CONTACTLESS WHERE POSSIBLE
Contactless transfer of eyewear can be arranged when preferred or required.
We follow best practice social distancing and maintain a 1.5m distance where possible during appointments. Eye examinations are performed efficiently as possible to reduce close contact.
If you have any questions or concerns, we are happy to discuss these with you. Please give us a call.